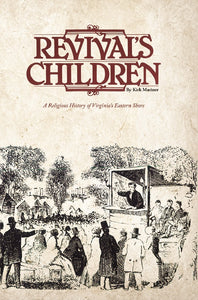 Revival's Children
Regular price
$27.00
$0.00
Unit price
per
Back in Print after 40 Years - Limited Edition

The definitive history of religion on the Eastern Shore of Virginia by The Rev. Dr. Kirk Mariner
734 pp
Perfect bound
"Kirk Mariner's Revival's Children: A Religious History of Virginia's Eastern Shore is essential to an understanding of the Eastern Shore's past. In Revival's Children, Mariner traced the religious experience of the people of Accomack and Northampton counties from English colonization around 1615 to the time of the book's publication in 1978. 
"Mariner was the first historian to emphasize the importance of the Methodist revivals of the late eighteenth century to the cultural development on the peninsula. He was also among the first to give the black experience on the Eastern Shore the attention that it deserves.
"In addition to a comprehensive narrative, Mariner also included an alphabetized list of brief histories of every church or synagogue, denominational or independent, whose existence on the peninsula he was able to verify. These histories have proved invaluable to those engaged in the study of individual churches. 
"Revival's Children is well researched, clearly referenced, and written with Mariner's characteristic charm."
- From the Foreword by Brooks Miles Barnes
---
Share this Product
---