Secant Publishing, an independent publisher in Salisbury, Maryland, and Book Bin, an independent bookstore in Onley, Virginia, announce a contest to find the year's best short stories devoted to the theme of global climate change and its human impact.
We are interested in literary interpretations of how individuals and families, societies and economies, cities and nations are bearing the brunt of a world dominated by new extremes of weather, seasons, and ecological disasters
---
Three books written by regional authors and published by Secant Publishing have been honored in the annual Independent Publisher Book Awards competition. "Congratulations go out to Brent Lewis (Stardust by the Bushel); Joseph Koper (The Isaiah Fountain Case); and Paul Awad & Kathryn O'Sullivan (When Earth Shall Be No More)," said Ron Sauder, publisher. "It is a special honor for a small indie press like Secant to have multiple titles recognized in a competition that is open to all independent authors and publishers, from the smallest to the very largest." Among the winners this year were major university presses such...
---
  In a new book, former Berlin mayor Gee Williams sets out his prescription for revitalizing small-town America. Turn Your Town Around: How to Make It a Great Destination Community maintains that building on any town's distinctive history and hospitality, along with nurturing local entrepreneurs and artists, can lead to transformative results. Williams' case rests on a tangible example– the real-world success of Berlin, where he served as mayor for 12 years (2008-2020). A town of 5,000 located between its larger neighbors of Salisbury and Ocean City on Maryland's Eastern Shore, Berlin traces its own history to a Colonial-era plantation...
---
"This rigorous account clearly shows that Isaiah Fountain suffered a fate he didn't deserve." - Kirkus Reviews Easton author Joseph Koper has released his first book - a riveting account of racial injustice in Talbot County, painstakingly pieced together from the headlines and court records of a century ago. In the wake of World War I and the "Spanish flu" pandemic, economic and racial tensions flared across the country. The Eastern Shore of Maryland was not immune. In April 1919, a successful Black farmer named Isaiah Fountain set out by foot from his home in Williamsburg, Maryland, to Easton, Maryland,...
---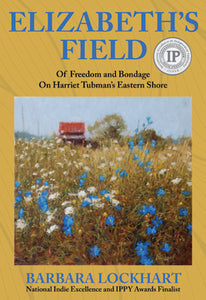 For her nine years of research bringing back to life and thus preserving the vivid 1850s African American history of her own farm, and the remarkable life of Elizabeth Burton, its free Black owner 165 years before, author Barbara Lockhart has been awarded Underground Railroad Free Press's 2022 Prize for Preservation, the highest honor bestowed in the international Underground Railroad community. Lockhart's research resulted in her multiple-awarded book, Elizabeth's Field: Of Freedom and Bondage on Harriet Tubman's Eastern Shore (Secant Publishing, 2020). Lockhart's and Burton's farm is located in Dorchester County, Maryland, birthplace of Harriet Tubman, who...