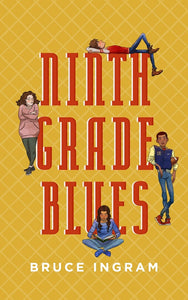 Ninth Grade Blues
Regular price
$12.95
$0.00
Unit price
per
"For gritty content, readers should look elsewhere—no sex, drugs, or binge-drinking here. But these teens' everyday interactions, doubts, and triumphs ring true, and readers should want to find out what happens to them next in Ingram's upcoming second novel, Tenth Grade Angst." - Kirkus Reviews

Ninth Grade Blues follows four teens through the adventures and misadventures, ups and downs of life in the first year of high school. They contend with classes and tests, worry about going out on dates, struggle with not being able to drive, and dread being called on by teachers they do not like.   Interweaving first person stories are told by:
Luke: a shy, hard working, poorly dressed boy from the wrong side of the tracks. Luke is mediocre at basketball, mediocre at baseball, and mediocre at school. But he has hidden talents in science--he is a budding fisherman, hunter, and naturalist-- and he is even appealing to some girls, unbeknownst to himself.
Elly:  sociable and friendly, Elly worries about getting a boy to like her. She has chubby legs, frizzy hair, and a few excess pounds gained over the summer. However, she is also a top notch student. Elly has her life mapped out, all the way through a big church wedding (groom to be determined later) and a nice house in the suburbs.
Marcus: a freshman superstar, Marcus plays football and basketball at the varsity level and has his sights set on a D-I college scholarship. He worries about having to choose between playing in the NBA and the NFL. Marcus regards himself as God's gift to women, and caroms through a series of irate girlfriends while he blows off his classes.
Mia: a smart, dedicated girl who gets straight A's and will definitely go to college. Her first-generation Mexican-American parents are hard working and intent on matching her up with a nice Hispanic boy. But Mia and Luke begin studying together, and very soon, Mia develops other opinions about where her heart lies.
---
Share this Product
---