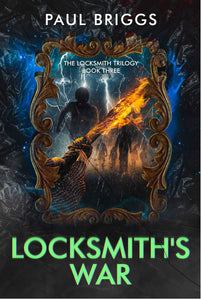 Locksmith's War
Regular price
$15.00
$0.00
Unit price
per
For Lachlan Smith, learning the secret of the apocalypse was the easy part.
Ever since Locksmith found the portal to the future, he has been wondering who or what was responsible for the empty, uninhabited world he found.
Now he knows—and now he has to fight them.
He thought he had fifteen years in which to prevent the extinction of the human species.
Now, he has only hours.
When the portal is stolen by a cabal of dangerous fanatics, his mother and many of his friends are trapped on the other side. Now the enemy is after him, and the only way to thwart their genocidal plan is to retake the portal and hold it—at both ends.
With very little time left, a handful of allies who don't trust each other, almost no chance of success and the survival of humanity itself at stake… Locksmith is going to war.
---
Share this Product
---