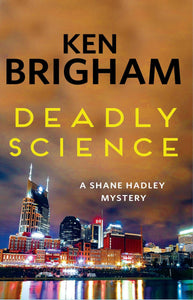 Deadly Science
Regular price
$16.95
$0.00
Unit price
per
"...a cleverly plotted mystery novel with an interesting premise, vivid descriptions and quirky characters..."

- IndieReader

Former Nashville detective and Rhodes Scholar, Shane Hadley, hasn't been involved in a murder case since a stray bullet transected his spinal cord, ending his career and stranding him in a wheelchair. One Sunday morning, the familiar pop,pop,pop of gunshots draws Shane like a magnet. He wheels himself onto the balcony of his apartment overlooking Printers Alley, the once-beating heart of Music City USA.

Here, he sees Bonz Bagley, proprietor of Bonz's Booze and Music, lying dead in front of his club. Shane's wife, neurologist Katya Karpov, is doubly alarmed by the murder—she was fond of the old man, and also, she knows that he was taking an experimental drug for Alzheimer's disease that was invented by Katya's boss at the university. Hardy Seltzer, the police detective assigned to the case, knows Shane as a department legend from before the accident that sidelined him. When fate brings them together, Hardy takes advantage of Shane's uncanny intuitions as they race to find the murderer.
---
Share this Product
---