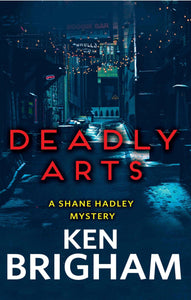 Deadly Arts
Regular price
$16.95
$0.00
Unit price
per
"Deadly Arts is a complicated mystery centered on a mysterious crime.....the story excels in drawing the nuanced relationships between characters: those between husbands and wives, friends and lovers, and business associates. Its characters keep secrets and overlook or are irritated by one another's foibles."
- Foreword Clarion Reviews

"I would love to see these characters fleshed out into a formidable, long-running series. The author manages to keep the identity of the killer a mystery until the very end, and the story is hard to put down. With such a list of fascinating subjects, the reader is spoilt for choice while the author keeps them guessing on the issue of murder or natural causes. It's awesome to see a disabled person in the role of a main character and Shane is perfect. The author sums up his position beautifully. 'Times like these made Shane feel fortunate in spite of (or because of) the wrinkles in his story.' This is just one point of difference about this novel which makes it an attractive read." - K T Bowes for Readers' Favorite (5-Star Review)

In this sequel to Deadly Science (published originally as Death in Printers Alley), Ken Brigham reprises his Nashville-based and wheelchair-bound sleuth Shane Hadley, assisted by his brilliant neuroscientist wife Kiki.

When the aging Nashville artist Bechman Warren Fitzwallington is discovered dead in his own bed, the question for detective Hardy Seltzer is simple: natural causes, or murder? Clues are scant, and an autopsy finds no signs of homicide, but no one is grieving. The number of strangely-acting suspects seems to be multiplying as rapidly as the artist's florid late canvases.

Galleries in Nashville and New York are quickly fighting for the rights to sell any paintings that Fitzwallington left behind. But the dearly beloved himself was just as fervently hated by everyone who knew him, including his extensively tattooed daughter, who stands to inherit a fortune.

Hardy has avoided involving his friend, former detective Shane Hadley, in his cases since the Bonz Bagley murder. But now a national spotlight is shining on him, and he needs help. At the same time, Dr. Katya Karpov, Hadley's  wife, is directing a 20-year study of the aging brain. To her dismay, the confidential data in her possession turn out to reveal unsuspected relationships that will only complicate the mystery that her husband has been drawn into.

Hadley and Seltzer risk the ire of the city fathers, the police department, the medical establishment, and even organized crime to solve the last riddle of Bechman Fitzwallington. The solution that slowly comes into focus may mean that justice can never be done.
---
Share this Product
---