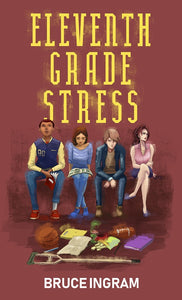 Eleventh Grade Stress
Regular price
$12.95
$0.00
Unit price
per
Veteran English teacher Bruce Ingram continues his socially realistic chronicle of life in contemporary high school, as four friends and classmates are now more than halfway through their challenging high school years.

Says D. Donovan of Midwest Book Review:
"Eleventh Grade Stress offers a high school story with two unusual attributes: the added value of input from teachers and students at Lord Botetourt High School, and editorial touches provided by a team of students in Bruce Ingram's creative writing class. Bruce Ingram is a high school teacher who knows students well, and this is evidenced by a story that surveys the special stresses of a year when students stand on the cusp of new adulthood and new possibilities.
"Several characters and their educational and social struggles are outlined to capture different aspects of 11th grade stress. There's Luke, who struggles with both school and the loss of his girlfriend Mia due to her father's hostility; Elly, who is seemingly doing well with both school and romance, but struggles with a hidden abuse problem with her athletic star boyfriend; Marcus, who seems on the fast track to a sports scholarship but is viewing college with new ideas; and Mia, Luke's ex, who faces a crumbling home life.
"Eleventh Grade Stress deftly captures both the heartaches and dreams of these disparate teens, using the first person to capture each character's struggles and interactions..."
---
Share this Product
---