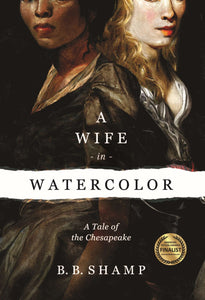 A Wife in Watercolor: A Tale of the Chesapeake
Regular price
$16.95
$0.00
Unit price
per
"As Sarah and Yearie, freewoman and slave, find their lives bound by circumstance and oppression, sharing an increasing camaraderie over mutual values and objectives, they embark on a journey to challenge and change not just one man, but the world."
- D. Donovan, senior reviewer, Midwest Book Review

+ + +

Ownership seared into their skins. Secrets that could cost lives.

Sarah Wise, half housekeeper, half mistress, sets off desperately searching for her kidnapped daughter.

Yearie, a love-crossed African woman, pleads for her freedom.

And Griet, a young Dutch girl hiding in the cypress swamp, longs for family.

Told in their own distinct voices, this harrowing journey into pre-Revolutionary America recounts the true fighting spirit of women suffering under the thumb of iron-fisted men.

In the cruelest irony, B. B. Shamp dramatizes the ways in which the quest for liberty sets an enslaved Black woman and "free" but vulnerable White woman at odds with each other – even when they share the same roof and long friendship.

Forbidden love and scorned friends, smuggling and theft, the powerful and the powerless, A Wife In Watercolor is a first look into the home of powerful merchant Robert Morris, Sr. of Oxford, Maryland Province.
---
Share this Product
---